UFC 145: 10 Bold Predictions for Jon Jones vs. Rashad Evans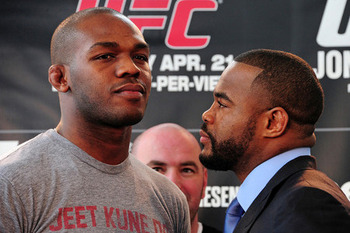 Jon Jones vs. Rashad Evans is beginning to sound scripted. In fact, if the back-story to UFC 145's headliner was a movie, we'd be inclined to criticize the plot—a tale of betrayal between two brothers, two former champions, the master and the student, the young lion and the seasoned veteran, one divided family and a long-standing grudge. It's all just too much.

By some trick of the stars, however, "Bones" and "Suga" have brought Hollywood and reality together, producing a treasure-trove story line for the UFC's PR team. The papers are signed, the date is set and the hype-train is gathering speed; all eyes are on April 21st.

Naturally, then, the Internet is brimming with tentative articles discussing the fight's outcome: will Rashad prove to be Jones's kryptonite, or will the young upstart nonchalantly brush his former teammate to the side, continuing his meteoric rise towards pound-for-pound stardom? Who, cry the commentators, can confidently call such an intriguing match-up?

We can, ladies and gentlemen. We, the writers at Bleacher Report, have little time for journalists with mealy mouths and weak constitution, preferring to walk the fine line and place our cards firmly on the table. Jon Jones may be a phenom and Rashad Evans a resurgent and skilled veteran; nothing is going to change between now and fight-night, however, and it's time to make some noise.

Without further ado, strap yourselves in and enjoy 10 bold, brassy predictions for Jones vs. Evans.
Jones
Gets Taken Down Repeatedly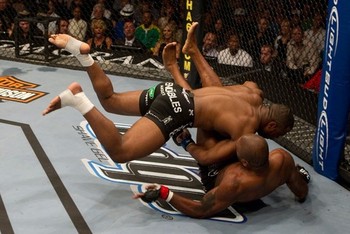 You heard it here, folks: Jon Jones is going to spend more time on his back against Rashad Evans than in the rest of his other UFC bouts combined. Admittedly, Jones' incredible counter-wrestling makes this initial prediction sound like a cop-out, but there's more: Jones is going to be taken down by Evans in every round, and will fail to return the favour. How so, you ask?
Jones is a Greco-Roman wrestler, who uses his long limbs to execute throws and trips from the clinch. Evans will avoid the clinch like the plague. In fact, Rashad is going to take Jones down not by wrestling with the champ, per se, but by cutting angles and shooting tackle-style takedowns, using his lightning-fast hands to "hook and shoot", thereby avoiding a technical wrestling match.
Evans Proves to Have Better Conditioning Than Jones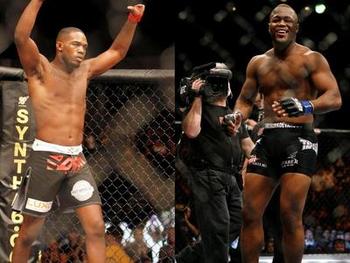 While both fighters have gassed in the past, Rashad's conditioning turned a corner prior to his fight with Tito Ortiz. Suga dispatched the "People's Champ" in an explosive, fast-paced fight, hardly breaking a sweat in the process. On April 21st, Rashad will use his improved fitness to run rings around the champ, cutting angles and circling constantly, causing Jones to tire himself out by punching air and chasing the smaller man.
Another point to note is that while Bones has not yet shown any nervousness in the Octagon, if ever the 24 year-old does suffer the energy-sapping effects of a large adrenaline dump, it will almost certainly be against Rashad. In a fight built on negativity and emotion, the youthful phenom may find keeping his focus difficult, causing Suga to be the fresher man come the championship rounds.
Posted by
Maximus Fitness + Strength Training, former US Army Soldier, Mind-Muscle-Motivator